These days, Amazon, Cdiscount, Rakuten, and many other big brands use affiliate marketing in their commercial strategies. The ease of use of this lever, the very low set-up costs, the interesting and flexible remuneration model, and the access to its statistics in real time are the main advantages of this model.
More than just advertising agencies, affiliate programs offer unique tools and services to help all entrepreneurs, both affiliates and advertisers, to succeed in their lead-generation campaigns.
How do affiliate programs work and what are the best services depending on your business goals and sector of activity?
In this article, we'll provide you with an overview of some of the top affiliate programs available today.
All about affiliate programs
What is an affiliate site?
An affiliate site is a website that brings together advertisers and publishers. Advertisers are companies that want to promote their products or services on the Internet, while affiliates or publishers are people who have a website, a blog, social networks, and who want to monetize them by publishing ads.
The principle of the affiliate site is simple: the publisher publishes ads or links on their site that redirect to the advertisers' products or services. If an internet user clicks on these ads and makes a purchase on the advertiser's site, the affiliate receives a commission on the sale.
The affiliate site serves as a place to connect advertisers and publishers and manages the tracking of sales and the payment of commissions.
Why use an affiliate program?
For advertisers, affiliate programs allow them to reach a wider audience by publishing ads on many different websites and by choosing the right affiliates for their objectives. It offers great flexibility in terms of targeting, by making it possible to publish ads on websites that target specific niches or personas. It allows you to track the performance of each ad and each publisher, which can be useful to optimize your campaigns.
For affiliates, affiliate programs offer the opportunity to monetize their website or networks by publishing ads without having to worry about finding advertisers and negotiating commissions. It permits you to choose among many advertisers' offers and to select those that are the most adapted to your audience. Generally, it manages the tracking of sales and payment of commissions, allowing you to focus on content creation.
What is an affiliate program?
An affiliate program is the system of promoting products or services through a network of affiliates. The principle is simple: the advertiser provides publishers with ads or links that redirect to its products or services.
The affiliate program can be managed centrally, for example through an affiliate platform, or independently, by negotiating directly with each affiliate. Very often, the use of a platform to set up the program is preferred because it allows to centralize all the actions related to affiliate marketing, from the contact with the future partners to the payment of the commissions.
What are the advantages of affiliate marketing?
Cost:

It's generally less expensive than other forms of online advertising because advertisers only pay when a sale is made.

Targeting:

Advertisers can target their campaigns by choosing publishers that have a similar target audience to their goods or services.

Tracking:

Affiliate programs allow for accurate tracking of the performance of each ad and each publisher, which can be useful for optimizing campaigns.

Profitability:

It can be an attractive source of revenue for publishers, who earn a commission on every sale made through their ads.
Social networks, emailing, website, blog... How do you get into the affiliate business?
Create your affiliate site
Do you have an online business idea and want to promote it in an efficient way? It's time to create your own affiliate site! And to aid you in this process, we have the perfect solution: Evolup.
Evolup is a tool designed especially for people who want to start an affiliate business. It's 100% dedicated to this activity and will allow you to create a powerful website in just a few clicks. Thanks to its text-generation artificial intelligence, you'll be able to easily import your products and transform the pre-filled descriptions into SEO levers. You'll be able to find your niche and create a domain name that suits you!
But Evolup doesn't stop there! By using our tool, you'll also benefit from daily support from our team of Business Coaches. They'll aid you in turning your questions into sales opportunities. And thanks to artificial intelligence, you'll be able to count on our assistance at every stage of your development: help finding your niche and even your domain name, writing product descriptions, blog posts, and other text for your site.
Affiliate marketing is an easy and exciting way to earn passive income. Whether you're an individual or a professional, starting at just $10 per month, you can get started with this strategy and earn commissions. So why not try Evolup for 7 days for free and make money from your passions? Don't wait any longer: try Evolup now and discover all the possibilities it offers you!
Add affiliate links to your content
Start by choosing products that are relevant to your communities and your website's branding. It's important to only promote products or services that are relevant to the theme of your site or content, so as not to disappoint or frustrate your readers. For example, if you want to advertise good deals, pay attention to the prices of the chosen items so that your message is consistent for your target customer.
Present the products or services you promote in a transparent fashion, highlighting their strengths but also their possible limitations to create a relationship of trust with your visitors.
Take care of your presentation! Integrate the links in a natural way: rather than creating entire pages of affiliate links, try to integrate the links naturally into your content, making them correspond to what you're writing.
Finally, use the tracking tools offered by affiliate platforms to see how your links are performing and to optimize your campaigns through analytics reports.
Create an engaging medium for your community
The goal is to engage as many people as possible and generate as many sales as possible with the content created on the website, blog, social networks, etc.
Affiliate marketing plays a lot on the trust of the users towards the advice shared by affiliate sites.
Comparisons, charts, matches between products of the same range, etc. By creating these types of tools for readers, the affiliate can become an authority and inspire users to make purchases.
This can only be achieved with engaging content and by positioning the site and the social networks where the affiliate links are located as experts in their field.
Earn commissions on generated sales
The principle of affiliate marketing is to allow publishers to earn commissions on the sales generated by their programs on the advertisers' sites.
In addition to there being different types of affiliate marketing, these commissions can be of different kinds:
Cost per action (CPA):

the affiliate receives a commission for each specific action taken by a visitor following a click on an affiliate link. This action can be the purchase of a product, the creation of an account, the subscription to a newsletter, etc.

Cost per thousand (CPM) impressions:

the affiliate receives a commission for every 1,000 impressions of the commercial banner.

Cost per click (CPC):

the affiliate receives a commission every time a visitor clicks on an affiliate link.

Percentage of sale:

the affiliate receives commission as a percentage of the sale price of a product.

Per sale:

the affiliate receives a commission for each sale made through an affiliate link.
What are the best affiliate marketing programs?
By teaming up with the best affiliate solutions on the market, find the partners who can make your campaigns a real commercial success when you want to make money with affiliate marketing.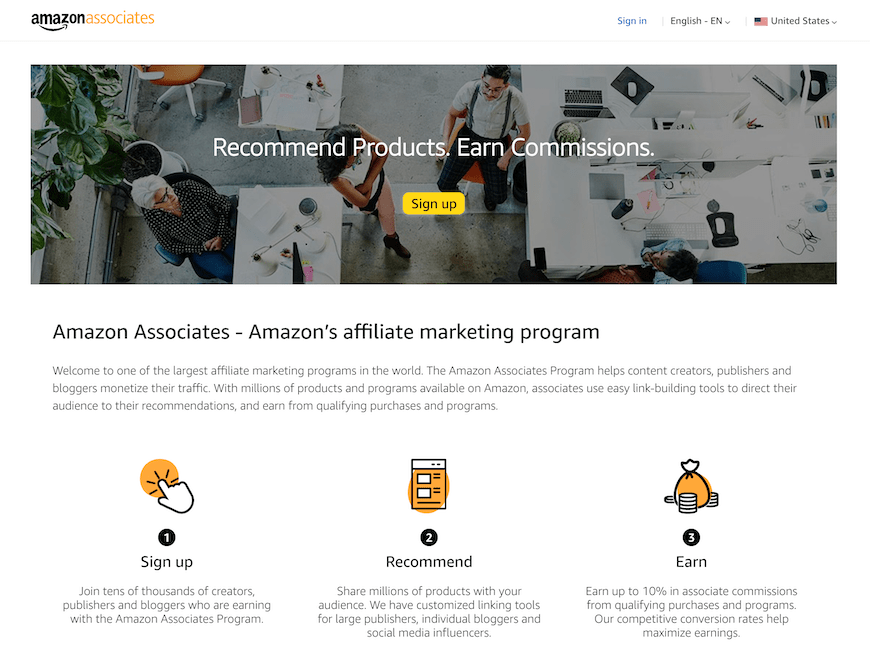 Amazon Associates is an affiliate program offered by the giant Amazon that allows people who want to promote Amazon products to do so by creating affiliate links on their website, blog, social networks, etc. When a visitor clicks on an affiliate link and makes a purchase on Amazon, either on the website or the mobile app, the affiliate receives a commission on the sale. The commission rate varies depending on the product category.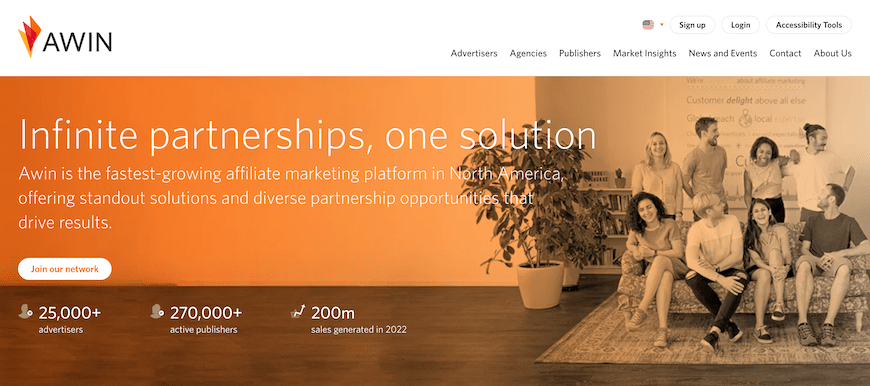 Awin is an international affiliate marketing platform that supplies an affiliate network allowing advertisers and publishers to set up affiliate marketing campaigns. Awin manages the relationship between each actor of the affiliate network. The site has more than 25,000 brands and 270,000 affiliates. Awin Access is a tool created by the platform to support new advertisers.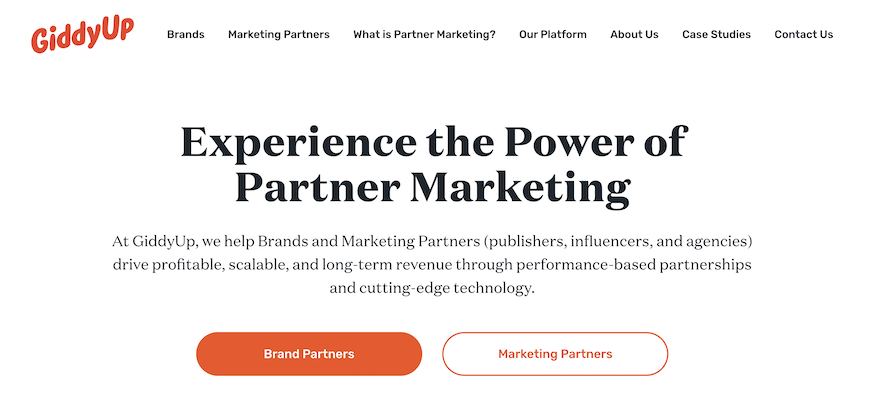 GiddyUp is an affiliate program that's especially helpful for beginners, as it offers a plethora of tools and an affiliate manager feature to support users in driving profits and generating revenue for the long term. With this network, affiliates are able to partner with more than 150 direct-to-consumer brands, giving them a wide range of products in all kinds of categories, including electronics, health and wellness, travel, and more, from which to choose. GiddyUp also provides users with access to a digital library to boost their digital marketing campaigns, real-time data, and powerful tracking for easy performance analysis.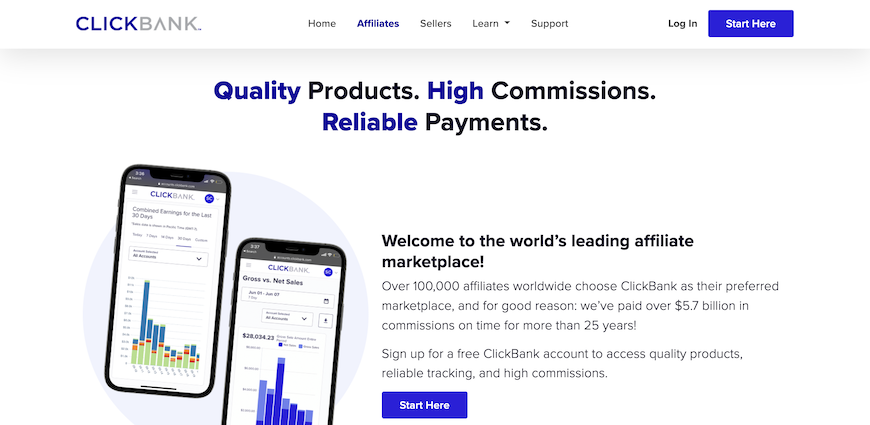 ClickBank is an affiliate marketplace that's been helping affiliates around the world boost their revenue for over 25 years. The platform makes it super simple to get started, as creating an account doesn't require a lengthy verification process. ClickBank makes it possible to partner with an extensive range of companies and choose from a large variety of goods to recommend to your audience.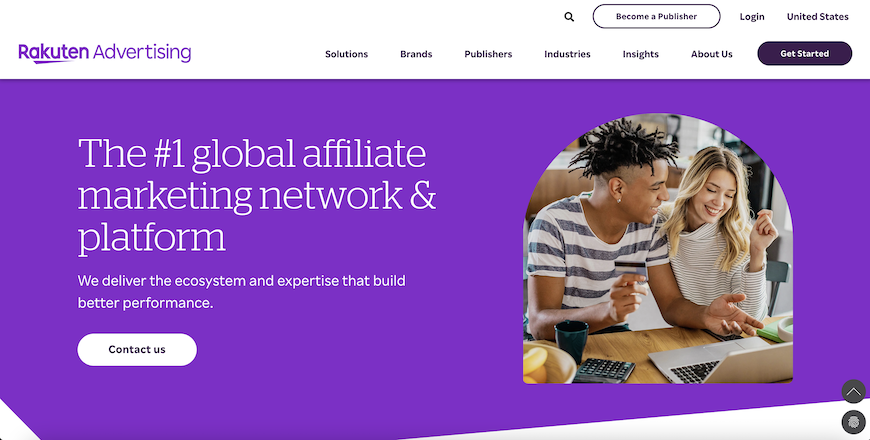 Rakuten Advertising is an online marketing service that features a range of online advertising services to assist businesses with achieving their various goals, including with affiliate marketing. Affiliates registered with the network can display banners and calls-to-action involving partner advertisers' products and earn commissions on sales.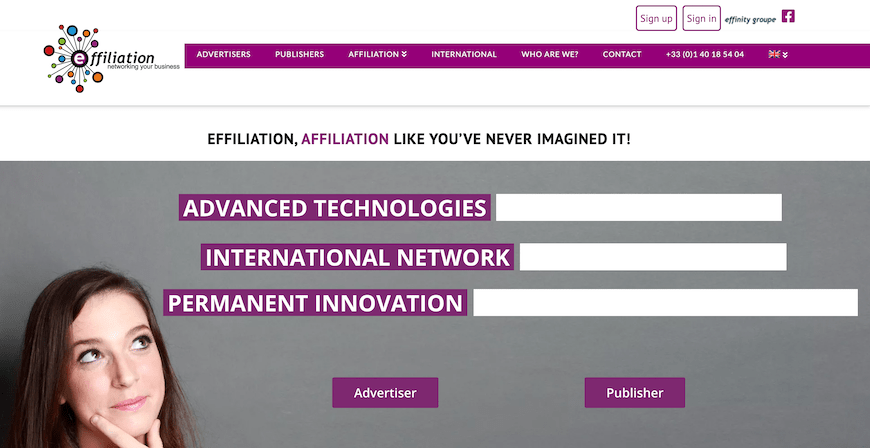 Effiliation is an affiliate marketing and partnership management platform. Its expertise: hyper-personalization of the experience. Effiliation also offers tracking and reporting capabilities to assist companies and affiliates with evaluating campaign performance and optimizing their affiliate marketing efforts.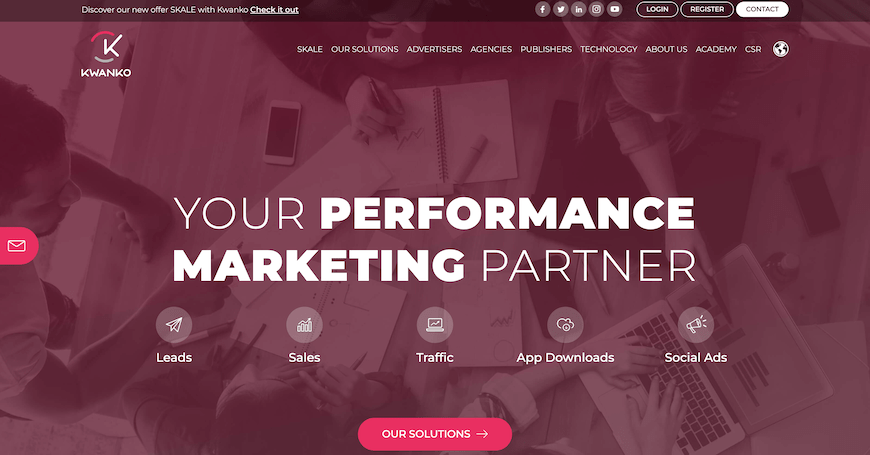 Kwanko is an affiliate marketing platform that reaches out to the world and provides an all-in-one interface for several types of services: affiliate marketing, lead generation, app downloads, traffic, influencer marketing, drive-to-store, email marketing, and custom content creation. The simple interface for customers allows for easy navigation and fluidity of campaigns.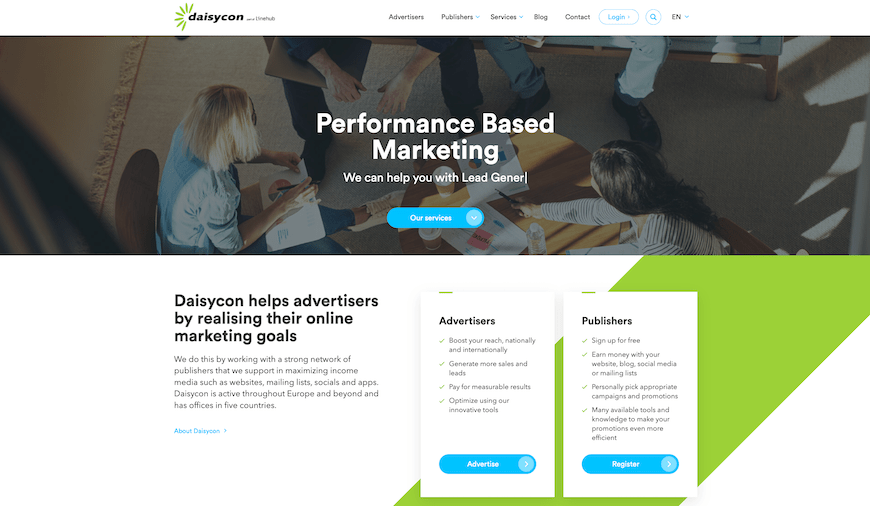 Daisycon is an affiliate marketing program based in the Netherlands. Daisycon allows companies to create affiliate programs and collaborate with affiliate websites to promote their products or services online. Daisycon has established itself in the market thanks to its personalized services and the performance of its offerings.
CJ Affiliate (formerly Commission Junction Affiliate Marketing) is an affiliate marketing platform that offers international opportunities for advertisers. In addition, the service provides the ability to delegate the creation of content and partnerships with influencers directly from their account. Major brands work with CJ Affiliate in the ecommerce world, both for advertiser clients and affiliates.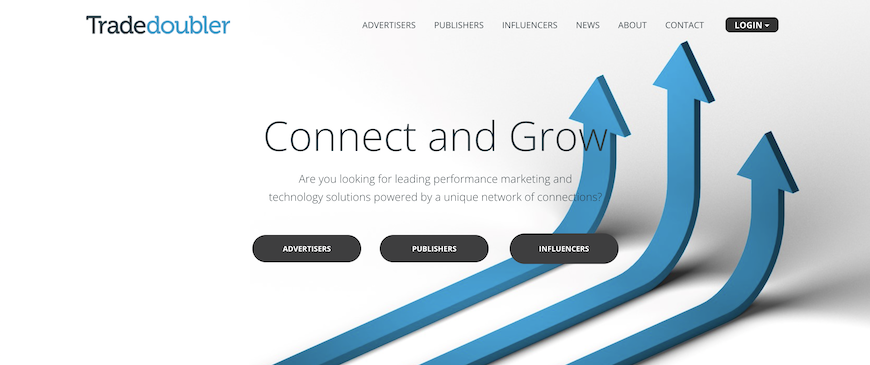 Tradedoubler connects advertisers, companies that want to promote their products, with publishers, websites that want to promote the advertisers' offerings in exchange for a commission. Tradedoubler manages the affiliate marketing campaigns and ensures that the publishers are properly compensated for their work. Tradedoubler also offers a variety of features and services to aid advertisers and publishers in maximizing their online performance.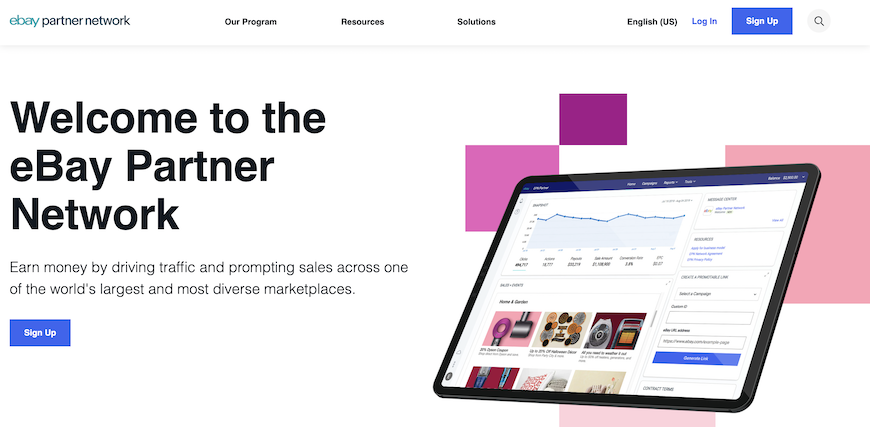 One of the first online marketplaces, eBay is still one of the biggest and best-known ecommerce sites today, and it now also offers an affiliate program known as the eBay Partner Network. Just like with Amazon, affiliates will find a multitude of brands that want to sell their products on eBay. Furthermore, the eBay Partner Networks features numerous tools for tracking, analysis, and optimization, assisting users in making the most of their efforts.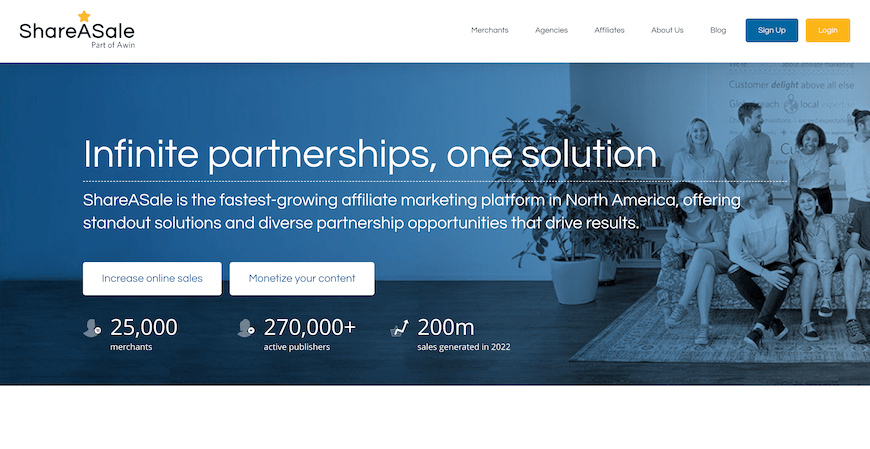 ShareASale allows merchants to connect with publishers who can advertise their goods and services. ShareASale provides tools and resources for merchants and affiliates to track the results of their campaigns and optimize their actions. It's a popular solution for advertisers and publishers who want to participate in winning affiliate programs.
Although there are various pros and cons with affiliate marketing, it remains an important lever in ecommerce these days: it generates billions of dollars in revenue and makes it possible for anyone to get into the exciting business of online sales. By choosing one of the best affiliate marketing platforms, you can be sure to track your statistics and monitor your success in real time. So what are you waiting for?